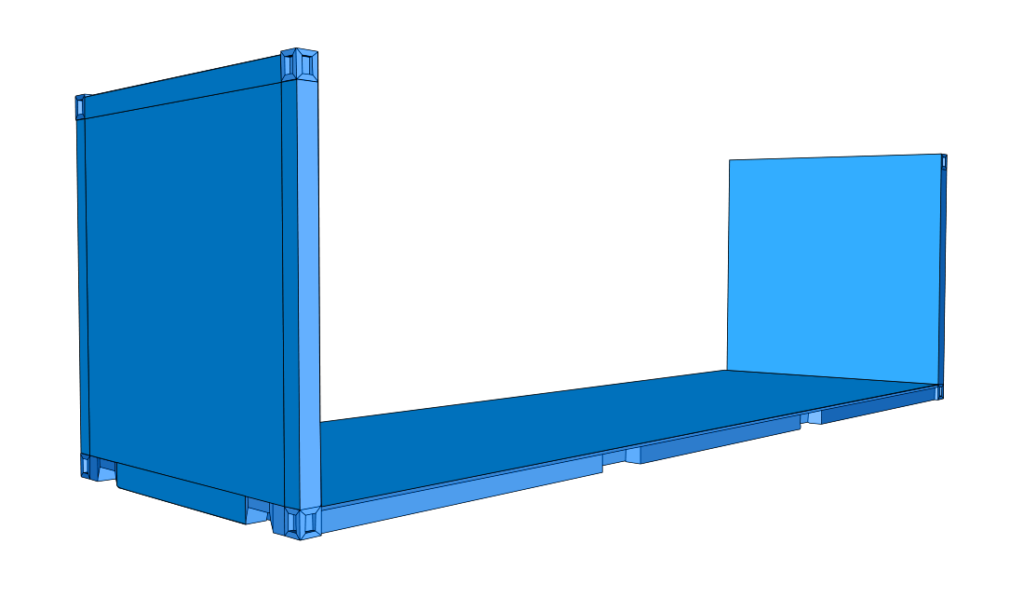 Compared to fixed-end type, collapsible flatracks have end walls that fold. The flushfolding collapsible flatrack, the most sophisticated of its types has end walls which fold flush with the base.
Flatracks are dedicated for the carriage of heavy, bulky as well as over height and/ or over width items.
They also permit the stacking of several empty containers into one 'bundle' for empty repositionning. Their base is often designed to transport heavy material. Some flats are 45T tested. The flatracks with collapsible ends also permit the transportation of over length cargo.
Internal Dimensions
20'PC
20'x8x8'6″
40'PC
40'x8x8'6″
Length with end walls folded
5.718 mm
11.888 mm
Height
2.213mm
1.959 mm
Length between end headers
5.920mm
12.054 mm
Length between corner posts
5.634 mm
11.652 mm
Width between corner post
2.224 mm
2.227 mm
Width of floor
2.208 mm
2.374 mm
Width between side accessory pockets
2.158 mm
Door Opening
20'FR
20'x8x8'6″
40'FR
40'x8x8'6″
Width
2.400 mm
2.360 mm
Height
2.584 mm
2.580 mm
Weight
20'FR
20'x8x8'6″
40'FR
40'x8x8'6″
Max Gross Weight
34.000 kg
Average Tare
2.750 kg
4.900/5.100 kg
Maximum Payload
31.250 kg
39.980/44.900 kg
Security Rings
20'FR
20'x8x8'6″
40'FR
40'x8x8'6″
Number per side
12
32